Here are the steps for processing a donation through the WAAS website by credit card. Although WAAS uses Paypal to process its credit card payments, you do not require a Paypal account to use this option. We have outlined the steps below.
Step 1: Go to: http://www.worldacademy.org/
Step 2: Click on the Red Donate Button in the left hand corner of the page
Step 3: You will be routed to a new page (http://www.worldacademy.org/node/3299)
Step 4: Click on the Yellow Donate button at the bottom middle of the page
Step 5: Plug in the amount of your donation in the 'Donation amount' field located at the top right of the page. Click on the 'Update Total' button

Step 6: Scroll down to the bottom of the page to the heading "Don't have a PayPal account?" Click on link 'Continue'

Step 7: You will be taken to a new page that requires the information as below and allows a choice of countries.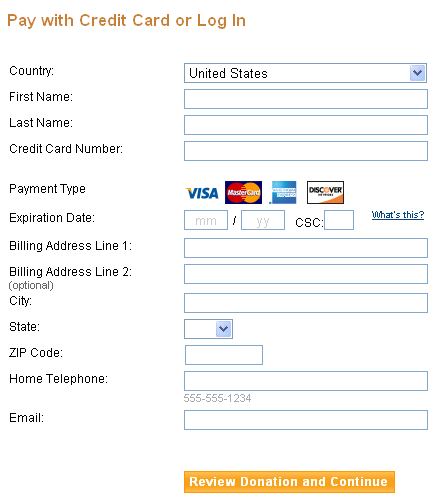 Step 8 : Your card will be charged for donation amount.
Thanks.